Amaco Pompeian Ash Glazes (PA)
Pompeian Ash glazes have a unique formula that produces a wiggly design pattern as they flow on the piece. This series must only be fired to Cone 5-6 in an electric kiln.
The result simulates ash glazes that have been fired to Cone 10 in reduction.
Apply these glazes by brushing or dipping. Taper down the application to one coat towards the bottom of the piece, to give room for the glaze to run.
These glazes will work well over most stoneware or porcelain clays.
George Debikey, Indianapolis, Indiana, created this vase with Porcelain Clay and decorated it using Pompeian Ash Glazes PA-60 Tan and PA-40 Green.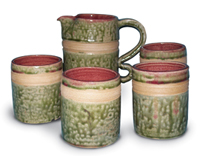 Marissa Vitolo created this tumbler set then used AMACO Pompeian Ash PA-40 Green for the design
Amaco Discount
20% Off 12 or more.
10% Off 6 or more.
Mix and match, any combination
Discount is applied after check-out
Please allow extra shipping time for Gallons.
1/12