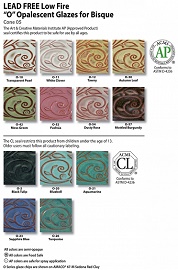 Amaco Opalescent Glazes
Cone 05
Most of the AMACO® Opalescent Glazes have a high gloss with an iridescence similar to mother-of-pearl.

Best results are achieved with three or four applications of glaze.

On textured ware, the glaze flows thin on relief and thick in incised areas, giving an added dimension on the surface.

AMACO® Opalescent Glazes can be used very effectively in Raku firing.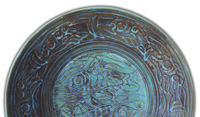 Brilliant effects are achieved by combining Opalescent glazes and Velvet Underglazes.

George Debikey applied this technique in his creation of "Fish Bowl". Colors used were Velvet Underglaze V-366 Teddy Bear Brown and Opalescent Glaze O-20 Bluebell.
---
They develop their greatest opalescence and most interesting textures over red firing clays.

Fire at Cone 06-05 (1830°-1915°F, 999°-1046° C). Liquid only.
---

These Amaco Glazes are AP Non-Toxic.


1 These Amaco Glazes are CAUTION LABELS: Code 1. Dinnerware Safe. Contains some lead or cadmium ingredients, but passes test for lead and cadmium release
Amaco Discount
20% Off 12 or more.
10% Off 6 or more.
Mix and match, any combination
Discount is applied after check-out
1/14