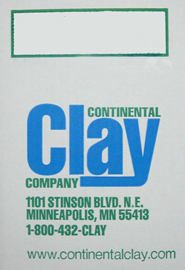 Gillespie Borate
A blended borate mineral for use in glaze formulas  replacing Gerstley Borate on a pound for pound basis.

Consistency:  Manufactured from high purity refined raw materials, this product is highly consistent from batch to batch.
Oxide Match:  Virtually identical to Gerstley Borate, this product requires no adjustment to formula and no extra additives are needed.
Mineral Match:  GB provides the same minerals to the glaze as Gerstley Borate, thus imparting the same glaze activity, texture and effects.
Particle Size Match:  A 200 mesh material, GB combines well with other glaze raw materials.
Plasticity Match:  A high colloid and clay content gives the plasticity necessary for many applications.
Reduced Glaze Defects: Laboratory studies indicate that GB gives increased glaze surface smoothness and a reduction in crawling and pinhole defects.
Lower In Off-Color Impurities:  As a refined blended material, GB contains few impurities and produces brighter glazes and colors.
Applications


Raku, Earthenware, Stoneware and Porcelain:  Excellent over a wide temperature range from below cone 06 to cone 10
Special Effects:  Excellent glaze texture and activity for specialty glazes.
Colored Glazes:  GB works well with most pigments and has an exceptionally wide color palette.
Due to fluctuating prices in the raw materials market, any price increases will be confirmed with you before your order is charged or shipped.
12/18