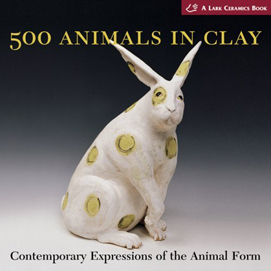 500 Animals in Clay
500 Animals in Clay: Contemporary Expressions of the Animal Form
Publishers comments:
No other volume has ever presented such a diverse and captivating collection of contemporary animal-themed ceramics.
Juried by distinguished artist and educator Joe Bova, this magnificent gallery includes pieces from an international group of artists; the beautifully crafted works range from the representational to the abstract, from artful realism to provocative surrealism (including animal-human hybrids).
Ann Marais' image of a waterfowl painted onto a porcelain dish has a restrained, Asian quality.
Sharkus' painted and smoke-fired stoneware turtle could easily be mistaken for the living creature.
Bova provides astute and illuminating commentary overall, with selected artists' notes.
Due to the specialty category of ceramic / pottery books, publishing runs are sometimes limited and book titles go in and out of print without notification. We do our best to keep up with our many publishers and stock availability.

09/07