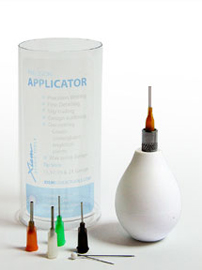 Xiem Precision Applicator Set
Xiem's Precision Applicator is a true innovation in ceramic glazing, slip-trailing, fine detailing, writing, wax-resisting, painting and any other liquid decorating technique you can dream up.
Our system consists of a super-soft rubber applicator bulb, nickel-plated connector and your choice of interchangable applicator tips. It's lightweight, easy to use and clean, plus our precision tip and connector system ensures that air pressure is regulated evenly and effortlessly.
1 oz. Precision Applicator Set includes:
1 oz. Precision Applicator Bulb, Precision Applicator Connector, 2 Applicator Cleaning Pins and
Four (4) Precision Applicator Tips

15 gauge
17 gauge
19 gauge
21 gauge
3 oz. Precision Applicator Set includes:
3 oz. Precision Applicator Bulb, Precision Applicator Connector, 2 Applicator Cleaning Pins and
Four (4) Precision Applicator Tips

14 gauge
16 gauge
18 gauge
20 gauge
Packaging: Reusable Tube
05/13 10