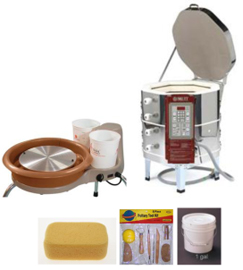 Space Saver Package
Complete clay studio package with valuable space saving features for home studios and smaller classroom areas.  Kiln, kiln furniture, potter's wheel, tool kit, clay and bucket.
Skutt Kiln:  Model KM818, 2.6 cu ft loading spacefully automatic, computer controlled, complete kiln shelf and post package including 5 lbs. kiln wash.  Two year warranty

Creative Industries Artista Potter's Wheel:  Centers 25 lbs of clay, includes 7" and 12" throwing bats and built in splash pan.  Shipped right handed wheel direction (left available upon request), optional leg set and carrying case available.  Fully portable, easy storage.  Two year warranty.

50 lbs Clay: your choice of any stoneware, earthenware or specialty clay

Economy Tool Kit:  eight piece basic tool kit, every tool you need to get started

One Gallon Bucket and Clean-up Sponge: Comes with lid. store your tools, kiln wash etc.  Sponge is great for all types of clean-up in your work area.
List Price $ 2216.00  Sale Price $1773.00
Super Savings of  $443.00!
Ships via truck, 320 lbs, F.O.B. Mpls MN
04/09