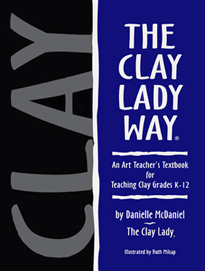 Clay Lady's Clay Class Textbook
The Clay Lady Way Textbook
An Art Teacher's textbook, 240 pages and fully illustrated, for teaching clay to grades K-12.
Clear Information from classroom setup to class management.
45 illustrated hand-built projects
An 8-week clay curriculum
Pottery wheel and studio basics-beginner and advanced wheel lessons
How to buy, fire, maintain and repair kilns
Fully illustrated
Due to the specialty category of ceramic / pottery books, publishing runs are sometimes limited and book titles go in and out of print without notification.  We do our best to keep up with our many publishers and stock availability.
9/18