Amaco Cloud Clay™
Light as air, non-toxic Cloud Clay comes in 10 colors and is perfect for ages 3+.
This soft, puffy, and pliable modeling material is fun to squeeze and model.
More 'stretch' than other brands so fibers won't break apart when pulled.
Dries overnight and decorates easily.
Reusable when sealed properly.
Available in 3 lb. and 6 lb.class packs.
Make a four-legged animal such as a horse or unicorn with Cloud Clay. Click here for instructions
Cloud Clay has received the Seal of Approval  from the Creative Home Arts Club.
To see a short video on how to make purses with Cloud Clay and a pasta machine, click here.
download AP (Non-Toxic) colors MSDS.pdf format,click here.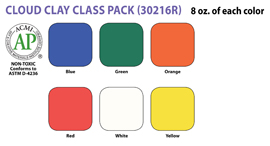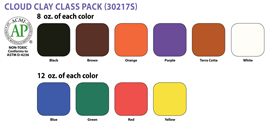 1/16