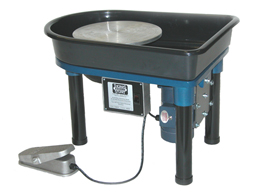 Skutt Thomas Stuart Revolution
1/2 hp model offers more power. Clay throwing capacities exceed 150 lbs. 
The removable splash pan design has a separate removable one-piece splash pan.
Easily lift off the removable wheel head, and then remove the splash pan in one piece. For some, this design is cleaner and easier to use than the standard two-piece splash pans on other wheels.
Wheels are shipped with STANDARD splash pan unless specified ROUND. 
10/22