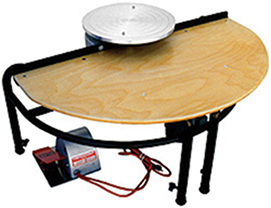 Soldner P100 Potter's Wheel
Model P100
The professional size frame wheel capable of centering 100 pounds of clay. 
A 1/4HP permanent magnet motor

14" removable wheelhead

1" shaft, 2 roller bearings, heavy-duty V-belt/pulley drive.

 

Top is 3/4" marine plywood with tough, polyurethane finish.

Adjustable height legs.

On/off, forward/reverse switch

2-pin head system, plus the finest speed controller ever developed for the potter's wheel.

Aluminum half splash pan sold separately. 
FOB Ft. Collins, CO 80522
6/22