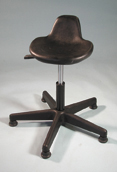 Speedball ST4 Stool w/Back
This institutional / student stool has a rugged and contoured seat which provides lower back seat support.  
Made from molded plastic and a firm cushion. 
Very durable and easy to clean.
Also has an air cylinder finger touch height adjustment. 
Five leg base with glides for stability.
Adjustable height 16" - 23"
9/22