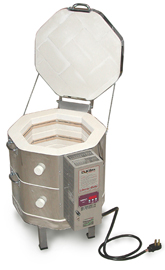 L & L Liberty-Belle Automatic Kilns
The Liberty~Belle kiln meets the needs of serious hobbyists, potters and others who need a simple small automatic kiln ideal for home use or for a studio test kiln.
Complete easy-to-follow visual instructions make this kiln ideal for the beginner yet powerful enough for experienced users.

It has L&L's time-proven technology like ceramic element holders, industrial-grade element terminals, heavy-duty elements and corrosion resistant materials.

Insulation is an energy saving 3'' brick.

This sectional kiln is easy to move and set up by the home user.

The 12 foot long cord plugs into a 30 amp dryer outlet.

3 year limited warranty.
Optional Furniture kit includes: One full 15" shelf, four 15" half shelves, four each 1", 2", 4" and 6" triangular posts and one pound of cone 10 kiln wash.
6/20