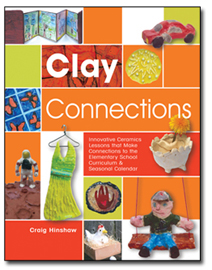 Clay Connections (for Children)
Clay Connections takes a different approach than other children's clay books. It places idea before technique. This is the way artists think and work.

If you are fortunate enough to work with children and clay, Clay Connections is a book for you.
25 creative clay lessons and 7 mural projects that make connections to the elementary curriculum.

Easy to follow lessons with photos of student work, materials lists and step-by-step procedures.

Simple, direct explanations of handbuilding techniques, clay, glazes, and kilns.
Praise for Clay Connections
"Every elementary art teacher should have this book!"—Nancy Walkup, Editor, "Schools Arts"

"Art teachers will find this easy to use resource something they'll return to time after time for successful lessons in clay!"—Bill Jones, Editor, "Pottery Making Illustrated"
07/15