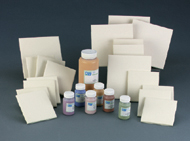 Bisque Tile
Commercial quality, white bisque fired tiles, self-spacing and flat on the back side for easy installation and grouting.

Tiles may be glazed or painted with underglazes, chalks, etc,then clear glazed and fired to cone 06 – 05.

4.25" x 4.25" x 1/4" or

6" x 6" x 1/4" square.
Save with case quantities
Small Tiles .80 each
Large Tiles 1.50 each
There is a 5% packing charge on bisque tile. This packing charge will not be shown at checkout, but will be added to your invoice if applicable.
4/22