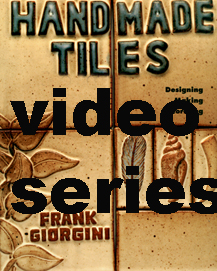 Handmade Tiles Videos
The Handmade Tiles video series by Frank Giorgini is a visually exciting and thoroughly comprehensive journey into the art of tile making. 
Intended for the beginning tile maker, the accomplished artist and the tile lover alike.

Frank guides the viewer through each step of the tile making process, with detailed and easily understood explanations. 
Glazing and Firing

Making Tools and Equipment
3/18