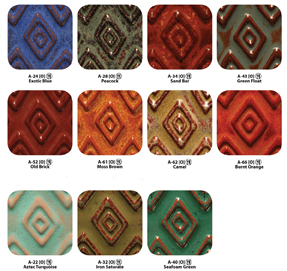 Amaco Artist's Choice (A) Glazes
LEAD FREE
The Artist Choice cone 05 series imitates high fire gas kiln reduction firing. Effects like Temmoku, Rutile, Oil Spot and other reduction surfaces are achieved without the need for cone 10 gas kiln equipment.
Looks most interesting over our red clay, but may also be used on white.

The color of clay shows through the glaze creating a different color dimension.

Best results with a bisque firing one or two cones hotter than the glaze firing.
For glazes Exotic Blue and Seafoam Green, glaze fire slowly and add a 20 minute hold at the end of the firing.
Artist's Choice Glazes are Discontinued by Amaco. Available while current supplies last. 40% off price shown. No backorders.
9/23