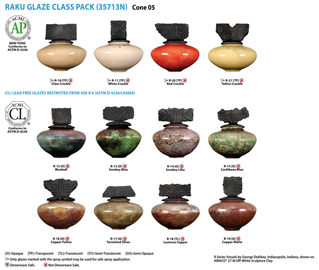 Amaco Raku Glaze (R) Class Pack




Cone 010-05. LEAD FREE

All colors in the Raku series are LEAD FREE.
CL glazes restricted from use K-6 (ASTM D-4236/LHAMA)

RAKU is a very unpredictable medium and is affected by many variables. The effects achieved with these or any other RAKU glazes may not always be the same. Even after you have done RAKU for a long time, you will see that it is almost impossible to have complete control over the result or a consistent glaze effect even if you are using the glaze from the same jar. However, this is a spontaneous technique, and all the varied effects are usually acceptable. Tong marks and other marks from reduction material is considered a characteristic of RAKU, not a defect.

RAKU can be safe and exciting when the right precautions are taken. RAKU is not for children. This technique is for adults or college students only.

This class pack contains ONE pint each of the following Raku glazes:
R-10 Clear Crackle, R-11 White Crackle, R-20 Red Crackle, R-12 Bluebell, R-13 Smokey Blue, R-14 Smokey Lilac, R-15 Carribean Blue, R-16 Copper Patina, R-17 Tarnished Silver, R-19 Copper Matte, and TWO pints of R-18 Lustrous Copper.

* safe for spray application.
Amaco reserves the right to substitute a glaze or underglaze of similar color and equal or greater value when neccesary and without prior notice.
Discontinued Raku Class Packs are 40% Off List Price.
List Price $ 197.00 - Discontinued Price $ 118.20
4/22 40