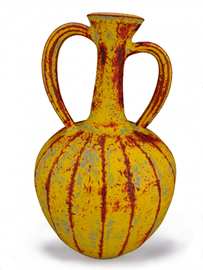 Amaco Velvet Underglaze 2 oz. Sets
Cone 04-6
Available in four sets of 12 colors each, all in 2 fl. oz. jars.
Set #1: Yellow, Chocolate Brown, Light Pink, Lilac, Purple, Medium Blue, Teal Blue, Blue Green, Leaf Green, White, Velour Black, Rosy Mauve
Set #2: Ivory Beige, Terra Cotta, Deep Yellow, Red Brown, Peach, Medium Pink, Lavender, Salmon, Baby Blue, Turquoise Blue, Royal Blue, Chartreuse
Set #3: Mint Green, Medium Brown, Royal Peach, Maroon, Hunter Green, Violet, Amethyst, Red, Light Red, Real Orange, Cinnamon, Electric Blue
Set #4: Rose, Medium Blue, Light Green, Dark Green, White, Jet Black, Teddy Bear Brown, Amethyst, Electric Blue, Bright Red, Flame Orange, Intense Yellow

All colors are non-toxic.
All Amaco Glaze Class Packs are 20% Off List Price.
List Price $ 81.00 - CCC Price $ 64.80
Amaco reserves the right to substitute a glaze or underglaze of similar color and equal or greater value when neccesary and without prior notice.
1/22 20