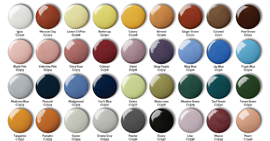 Continental Clay Ultimate Underglazes


Cone 06-6 Available in 36 rich colors, these underglazes are as beautiful and versatile as they are affordable.
Most colors may be fired well beyond cone 06 to cone 6 and higher.
Liquid colors are perfectly smooth and creamy, easy to apply by brushing or spraying.
All have excellent opacity, are lead-free
Available in economical Pints and Gallons
Buy it by the gallon and save money while enjoying a superior product!
note: color swatches are only as accurate as the internet will allow.