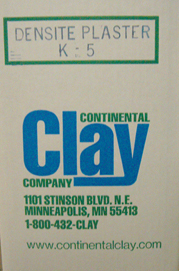 K-5 Densite Plaster
Extremely hard
low porosity for casting, sculpting and case molds
Use in either straight-pour statuary or solid forms — with predictable success.
Neutral low consistency base material. It contains no accelerators, retarders or additives. Used as a basic ingredient in dental stones, investment plasters, etc. Blend with a molding plaster or other general-purpose plaster to increase strength.
8/23