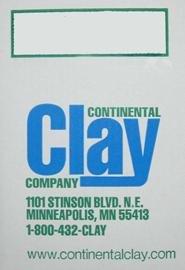 Ferro 3269 (replaces 3819, P25)
Ferro 3269 is a high soda, zinc borate frit.

Composition:
8.1%         K2O         Potash
11.1%       Na2O       Soda
.1%          CaO         Calcium
1.0%         ZnO         Zinc
13.2%       AL2O3      Aluminate
15.2%       B2O3        Borate
49.7%       SiO2        Silica Oxide
1.6%          F            Flourine

Fusion Temperature: 1400o F

What is frit? 
Frit is ceramic chemicals that have been melted together and cooled rapidly (shattered), then ground to a fine powder.  The purpose is to render soluble materials insoluble for workability and stability in glaze and clay formulas.  Frits are always used as a flux in a formula even though they also contain percentages of alumina and silica in combination with commun flux materials.
8/23