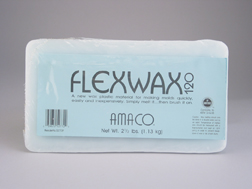 Amaco Flexwax
Flexwax is AP Non-Toxic.
This versatile mold making material is easy to use -- simply melt it then brush it on.
Ideal for use with three dimensional objects, making face masks, casting hands, etc.
At room temperature, the mold is moderately flexible, so you can allow some shallow undercuts without any problem.
Molds made with Flexwax can be remelted and used again and again.
Not for use by children unless fully supervised.
This a low melting wax, adults should make sure the temperature does not exceed 120°F (49°C) at any time.
2.5 lb. pkg. discontinued by Amaco. Available only while current supply lasts.
4/22