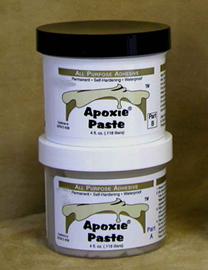 Apoxie Paste
Apoxie Paste offers economy as well as performance, strength and waterproof permanence. Freeze-thaw stable.
Acid & UV resistant, Safe to use with potable water. Electrically non- conductive.  Environmentally Safe!
Flat to semigloss finish to make repairs and painting easier.
Self-hardening, 2 part product (A & B) must be mixed thoroughly.  Batter like consitancy.
Open working time about 1-3 hours. Cures hard overnight (24 hour full  cure).
0% shrinkage.
Slightly Translucent, Khaki Color
Gripping Flexibility, strongly adheres to almost any clean surface . . . including ceramic, fiberglass, foam, glass, metal, plastics, resin, stone, wood, and more.
Can be seamlessly feathered before set-up, or sanded, tapped, lathed or  otherwise tooled after.
User friendly paste. Non-flammable, non-hazardous, no fumes. Complies with ASTM D.4236.
Clean up with Apoxie® Safety Solvent or water.
Apoxie Paste is available in Khaki

9/23