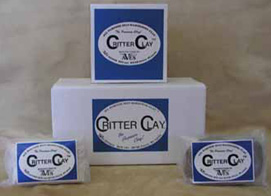 Critter Clay - White
A unique self-hardening clay which does not require kiln firing. Extremely smooth and workable with less than 1% shrinkage. Air dried finished product is hard and durable but not waterproof. May be finished with acrylic paint or varnish.
Critter Clay™ is the #1 choice of taxidermists and professionals worldwide because of its great detail, fine texture and low shrinkage rate (0-1%).

Critter Clay™ dries to a hard finish. It is a lightweight, extra strong.

Ready to use, moist, water-based modeling clay.

Non-toxic, non-shrinking, non-cracking and non-hazardous.

Accepts all paints and is great for intricate work.

Critter Clay™ is used in wildlife art studios, museums, schools, and motion picture studios.

White color.
9/23