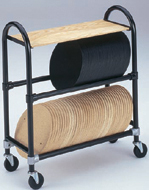 Brent Batmobile
New and improved design!
A great way to store your unused bats.

Welded support rails offer added strength and stability and side frames include holes to adjust the top two rails for holding larger diameter bats.

This strong steel cart glides on 4" diameter rubber swivel casters and is a great place to store your unused bats.

Once in place the casters can be locked to prevent rolling.

It holds up to (90) 14" bats, with adjustable shelves for almost any size bat and a top shelf that can be used on a ware cart.

To keep them securely in place, the Batmobile includes the brent® BatBrace (see photo). Acting like a "bookend", the BatBrace keeps up to 50 12" or 14" Plasti-bats from sliding.

The frame is powder coated for greater durability and improved scratch and corrosion resistance.
The Batmobile holds up to 90 - 14" bats, with adjustable shelves for almost any size bat and a top shelf that can be used on a ware cart.

Bats (shown in photo) not included in price

Assembled dimensions: 47 3/4" wide, 36" high, 14 1/2" deep.

List Price $ 718.00  Our Price $ 646.20

1/23 10