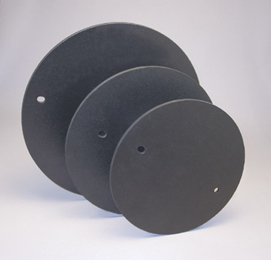 Amaco Plasti-Bat w/pin holes
Plasti-Bat was designed by studio potters to be a versatile, long-lasting, high-quality bat.

Soaking in water will not harm or warp it.

The bat pin holes remain just as drilled and will not become oversized with use.

Holes drilled 10" on center.

Fits Brent, Shimpo and

Pacifica

.
Please note: 8" (BTPB8) & 10" (BTPB10) require the use of an Adapt-a-Bat (BTPBA)
We recommend storing Plasti-bat plastic bats in a slotted rack such as the Amaco Batmobile or stacked on a FLAT surface to prevent warping. When stacking Plasti-bat plastic bats, be sure they are clean prior to stacking. Even the slightest obstruction can cause the bats to warp.
Sizes discontinued by Amaco available while current supply lasts. No backorders.
1/23