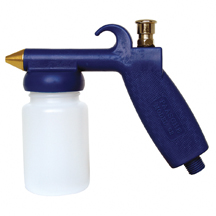 #62 Glaze Sprayer
Compact size glaze sprayer which uses the same 3 oz. bottle as an airbrush.
Operating on relatively low pressure, the 62-2 has a 50% larger tip than the 62-1 and efficiently sprays thinned glazes, medium to heavy consistency lacquers, varnishes and enamels.

It handles the application needs which fall between an airbrush and a spray gun. Used by ceramists, furniture refinishers.
Operates on 20 - 45 lbs. of pressure (can be used with Model D compressor), depending on fluid sprayed and effect desired.

 
Comes complete with 1 - 3 oz. bottle.

 
Hose not included.
2/22