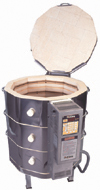 L & L Easy Fire Automatic
The Easy-Fire line features the easy-to-use multi-zone DynaTrol program control with four Easy-Fire programs.
The e23T-3 is 7 cubic feet - a good choice for small high school programs or studio artists. It has 3" brick and plenty of power to get to cone 6 with no problems time and again.
Internal Size: 22-3/8" diam x 27" high
Cubic Feet: 6.67
Number of Sections: Three
Brick: 3" of premium select K23
Outside Dimensions: 32'' wide by 40'' high by 45'' deep
Recommended Floor Space: 54'' wide by 54'' deep
Max Temp: 2350F, 1287C, Cone 10
Control: DynaTrol with Dynamic Zone Control, 4 preset programs, 6 user defined programs
Thermocouples: Three Heavy-duty 8 gauge with industrial ceramic protection tubes
Hinge: Easy-Lift, Easy-Load Spring Hinge
Stand: Full Support Aluminized stand
Control Panel Mount: Piggybacked on insulated terminal box
Power Hook Up: Single phase gets a 50 amp 6-50P cord; 3 phase gets a 15-50P cord
Three Year Warranty
UL Listed
Kiln voltage and electrical phase will be confirmed prior to processing your order.
6/20