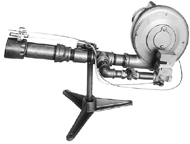 Johnson Power Burners
An excellent burner when natural gas is your fuel.
Equipped with powerful, quiet blowers with 1/3 HP continuous duty motors and heavy brass shut-off valves.

Specially designed flame retention nozzle allows for wide adjustment of gas input and easy flame adjustment for obtaining desired reducing and oxidizing atmospheres.

On large kilns, two or more burners, or torch tips with manifold, can be used with a single blower for economy and even heat distribution.
Available for natural or propane gas, please call for current pricing and to confirm BTU specifications.
03/12