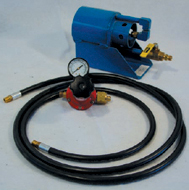 Liquid Propane Burner
Ideal for larger kilns where a high BTU, continuous flame is required. These liquid burners are built to handle the heat.
Construction is straight sleeve design with a thick steel ring both front and rear.

 

Liquid propane is vaporized within the burner sleeve without tank freeze up.

Tank must be set up for liquid withdrawal.

Burners will also burn vapor direct from tank. Includes flame adjust / shut off valve.

500,000 BTU capacity.
3/18