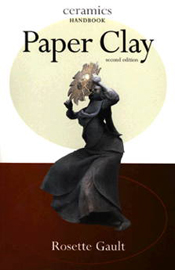 Paper Clay, Second Edition
In this revised and expanded edition of Paper Clay, Rosette Gault clearly explains how to make, use, and fire paper clay successfully. She also brings the reader up to date on new developments in the field, including methods for the ecologically sound use of paper clay. This handbook incorporates several helpful charts and illustrations, featuring firing schedules and proportion guidelines, as well as cross sections and templates for common forms.

Using the work of an international group of artists, Gault illustrates the flexibility of this exciting medium in a clear and accessible style. The text is replete with photographs and figures to demonstrate the techniques and their innumerable artistic applications.
Rosette Gault, an American studio potter, is one of the acknowledged authorities on paper clay. She has written a number of books on the subject, and she has lectured and taught at universities and colleges around the world.
Paperback edition, 144 pages 
Due to the specialty category of ceramic / pottery books, publishing runs are sometimes limited and book titles go in and out of print without notification.  We do our best to keep up with our many publishers and stock availability.
9/18