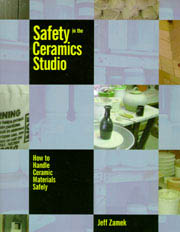 Safety in the Ceramics Studio
Jeff Zamek
Discusses how to protect yourself from potential hazards such as cuts and burns, inhalation, ingestion and dermal absorption of ceramic materials.

Information on over a hundred raw materials and their properties.
Paperback - 160 pg.
Due to the specialty category of ceramic / pottery books, publishing runs are sometimes limited and book titles go in and out of print without notification.  We do our best to keep up with our many publishers and stock availability.
12/16