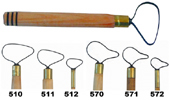 Dolan 500 Series
All Dolan Tools are individually made from high carbon knife steel, firmly set in hand-turned hardwood handles with brass rivets or ferrules.
Handles are soaked in an oil/resin bath to make them moisture resistant.

Each tool is hand sharpened.

All tools are guaranteed and designed to take a lot of hard work!

When not in use, tools should be kept clean and dry.

Even a simple wiping with a cloth will work.

A light coat of oil applied to both the steel and wood handle from time to time is recommended.

Dolan tools may be resharpened if they begin to dull.

We

recommend using a whetstone to bring edges back to original keenness.

Do not use power grinders or files as they will permanently damage the carbon steel.
The 500 series complements the 400 series. Similar loop and handle sizes but with specialty loop shapes not found on any other tools. Made from high carbon steel set with brass ferrules on hand-turned hardwood handles. 6" overall length.

The 510 and 570 head sizes are the same as the 300 series head on a 400 series handle.
The 511, 525, 555 and 571 head size is the same as the 400 series.
The 512 and 572 head size are the same as the "S" series. Click on photo for size comparison image.

 

10/22