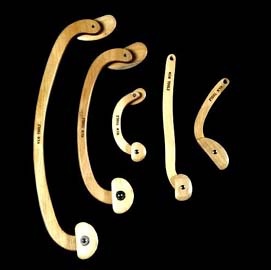 MKM Throwing Tools
You have to try it to believe it
There is nothing else that works even remotely as well as MKM Throwing Tools when it comes to shaping wide bottle or jar forms, reaching down into narrow cylinder forms or delicately adjusting the shoulder of a bottle.

MKM Throwing Tools are innovative and beautifully made.  They come in 5 different shapes and sizes for all your throwing needs. 

All of the MKM Throwing Tools are handmade from beautiful hardwood and finished to resist water for a lifetime.  Each rib head is made from the same wood, and is attached to the handle using a stainless screw, two washers, and a metal insert in the handle.  These tools are made to last a lifetime and to be of the very highest quality.
4/21