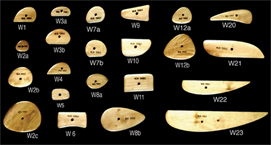 MKM Wood Ribs - Craftsman Series
These hardwood ribs range from small to extra large (18" long).  Great for interiors, corners, plates, and bowls.  Unmatched for finishing, throwing, shaping, and compressing. Many unique curves, corners, and shapes.
Pots come in all shapes and sizes, why not ribs?   
22 sizes and shapes of beautifully hand crafted wood ribs. 
Smooth sharp edges and ergonomic shapes. 
Great for all of your pottery needs.
9/23