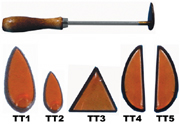 Kemper Turning Tools - TT
Used by potters to accurately shape, contour, and trim clay and plaster forms on the wheel.
The heavy steel heads are brazed to steel shafts, plated, and firmly set into smooth hardwood handles.
Kemper Tool Discount:
20% off 12 or more. 10% off 6 or more.
Mix and match. Any combination.
Discount deducted after check-out
3/23