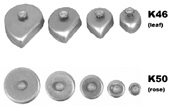 Kemper Leaf and Rose Pattern Cutter Sets - K46 K50
Leaf Cutter Set (K46)
Rose Cutter Set (K50)
Perfect roses every time with this set of five round cutters and instructions.

Use our Flower Clay Roller to roll out your clay to the desired thickness, then cut out the petals (circles).

These cutters are made from rust-free materials, have ejection plungers, and range in size from 1/2" diameter to 1-1/2" diameter.
Kemper Tool Discount:
20% off 12 or more. 10% off 6 or more.
Mix and match. Any combination.
Discount deducted after check-out
3/23