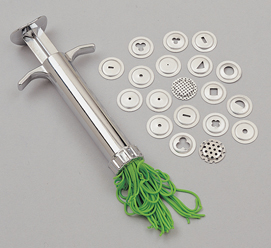 Kemper Klay Gun -K45
Klay Gun and Easy Squeeze Mini Extruder
The most popular tool by far.

Use it for a limitless number of decorative effects such as hair, grass, flower stamens, rope, logs, bricks, vines, and stems.

Includes a set of 19 assorted discs that are formed to allow a flush cutoff of the extruded clay.

The Klay Gun is made with a sturdy die cast zinc alloy that will not burst open or explode at the seam.

This non-rusting alloy is chrome plated for a nice appearance.
Screen Disks & Replacement Disks
For the Klay Gun,
Kemper Tool Discount:
20% off 12 or more. 10% off 6 or more.
Mix and match. Any combination.
Discount deducted after check-out
5/23