Kemper Notched Texture Ribs - RBT
Hardwood notched ribs that provide you with texture, angles and curves.
Choose from eight different styles to create interesting designs on clay pieces.
Easy to hold and fun to use.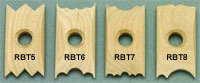 Kemper Tool Discount:
20% off 12 or more. 10% off 6 or more.
Mix and match. Any combination.
Discount deducted after check-out
3/23