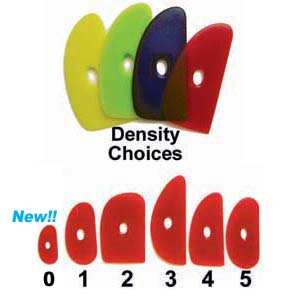 Mudtool - Ribs
Great rib series features six shapes and four densities for multiple uses. Lasts forever.

Zero size - same shape as 1, but in a mini size! Great for smaller inside wheelwork. Comes in same stiffness (colors) as all other ribs.
Blue - Firm Flex: still flexible but stiffer. Great for high burnish and throwing large work.
Green - Medium Flex: use for compressing bottoms, burnishing, trim marks, throwing, and handbuilding.
Yellow - Soft Flex: use for smoothing, burnishing, porcelain, throwing, and handbuilding.
Red - Very Soft: use for compressing slabs, burnishing rims, chamois, and handbuilding.

Please select a color (density) and a shape choice.
Also see the Sherrill Bowl Ribs (below)
1/22