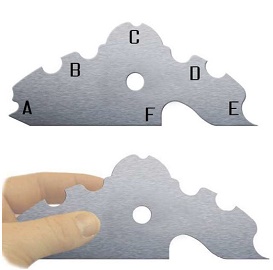 Ultimate Edger Profile Tool


A "must have" stainless steel shaping tool with many versatile uses: A: Creates double edge on bottom of pot.
B & D: Used to round out square edge on lip of pot.
C: Used to create raised design on lids and pots.
E: Creates single edge on bottom of pot.
F: Can be used to create a round edge on a large pot. Available in:
4½" long for smaller bowls, teacups and plate rims
5¼" long for thick walls or big pieces. Built of 22 gauge stainless steel and produced right here in the USA, this tool will last you a very long time.