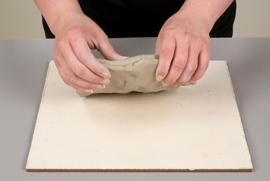 Canvas Covered Project Board
A portable clay work surface for wedging and rolling clay can also be moved and stored easily.
Keeps hand-built projects handy for many days.
Absorbant canvas for water-based clays prevents sticking to work surfaces.
Lightweight, 10" x 10" x 1/4".
Also available in a kit of 10 boards for class projects.
1/23