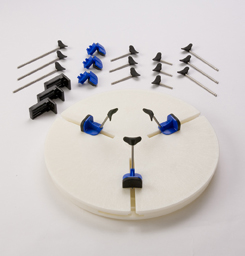 Giffin Grip - On Sale!
A re-centering and holding tool for leather-hard or bisque ware.

Designed specifically for trimming, it works equally well for waxing the foot or banding with underglazes or engobes.

Three arms gently corral your pot into the center.

After an initial one-time adjustment, the Giffin Grip simply snaps on and off your wheel.

Includes Giffin Grip, basic and wide slider sets, 2, 3, 4, 5 and 6" arms.

Fits: Brent, Shimpo, Creative Industries, Pacifica, Soldner, Lockerbie, Randall, Thomas Stuart, Max and More. Any potters wheel with a removable splash pan, or sufficient side clearance to mount a 16" (42 cm) diameter round plate on top, can accomodate a Giffin Grip.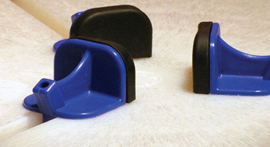 All new Model 10 Giffin Grips come with New blue sliders. They're much taller and get a little closer. Pads are more precise and will last longer.
Click

here to watch a great instruction video
4/22 10