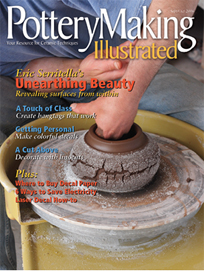 Pottery Making Illustrated
A bi-monthly magazine complete with articles, advertisements and ideas.
Pottery Making Illustrated, the world's #1 ceramic techniques magazine, is a must have for those passionate about ceramic arts and perfecting their craft.
Each issue contains practical information from experts and professionals presented in a well-illustrated format dealing with every aspect of pottery making, such as throwing, handbuilding, firing, clays, glazes, tools, and equipment.
3/18