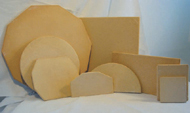 Test Kiln Shelves
These shelves exhibit exceptional resistance to thermal shock due to their unique composition which is high in cordierite and mullite.

5/8" thicknesses are recommended for cone 7 maximum.

1" thicknesses are suitable for cone 10 firings in oxidation, reduction and wood firings.

Shelves should be kiln washed before use.
---
Shelves for Aim 64J & Aim 88 & Test Kilns. Shelves have the following dimensions:

Square: 5 x 5 x 1/2 "
Square: 7 x 6 x 1/2 "

There is a 5% packing charge on most shelves and posts. This packing charge will not be shown at checkout, but will be added to your invoice if applicable.


9/23