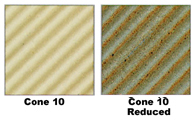 Fireclay Stoneware - Wet
Cone 8-10
Fireclay Stoneware is one our most popular cone 10 stoneware clays.  It is widely used by production potters and in large ceramic programs. 
Contains fireclay, sand and fine grog for moderate tooth.

 

A wide range of clay particle sizes gives exceptional green and fired strength.

 

Great for thrown and hand-built work large or small. Fires tan/gray in oxidation, gray/brown with iron spotting in reduction.
Continental Clay has excellent shipping contracts and rates with freight carriers throughout the United States and we will always pass freight savings on to you.
11/23