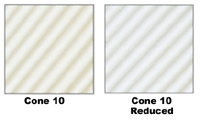 Grolleg Porcelain - Dry
Cone 8-10
Traditional porcelain formula using English Grolleg Kaolin for whiteness and plasticity coupled with a finely ground flint for translucency.

Vitreous and translucent at cone 10 in oxidation or reduction.
Continental Clay has excellent shipping contracts and rates with freight carriers throughout the United States and we will always pass freight savings on to you.
8/21