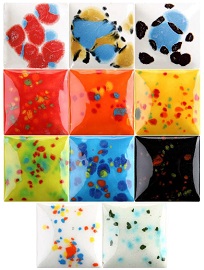 Duncan Crystal Glazes (CR) 926 - 935
The brilliance of fireworks is transferred onto bisque with Duncan® Crystals Glazes™.
The easiest glaze to apply, crystal pebbles of varying sizes are embedded into the glaze and burst in the kiln to reveal an explosion of multicolor flecks.

The result is a distinctive and unique array of colors that even a novice artist can achieve.
Available in a 4-oz. jar
Assorted colors available in pints
Discontinued Duncan Glaze Products (40% Off price shown below) available only while current supply lasts. No backorders.
4/23