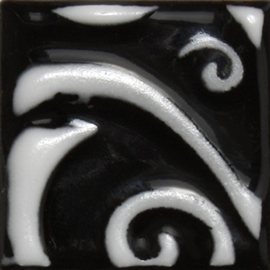 Mayco Sculpting Medium
Sculpting Medium – SG501 
Sculpting Medium is a quick drying dimension "glaze" that produces a white, raised surface.  A great use of Sculpting Medium is to add structured design elements to you work using stencils, lace and stamps.

It has the viscosity of condensed milk and it can be brushed on or applied with a sponge.

Sculpting Medium can be applied directly on bisque or on top of an unfired glaze. The recommended application thickness is 1/16 to 1/8".

The fired finish can be coarse and have rough edges; a layer of clear glaze (or a colored glaze) will smooth these sharp edges.

Firing range is 05/06: it will not perform at higher temperatures.

Non Toxic, Food Safe. May not be suitable for dinnerware due to surface characteristics. 

 
Mayco Discount
20% Off 12 or more.
10% Off 6 or more.
Mix and match, same size
Discount is applied after check-out
(offer may not be combined with other discounts)
6/16