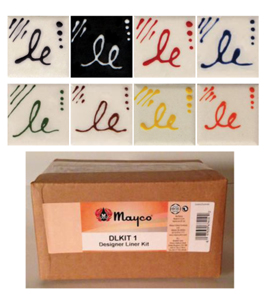 Mayco Designer Liner Assortment - 6 pack
Designer Liner Kit - 6 Colors
Designer Liner is a concentrated, clay-based pigment, packaged in a 1.25 oz. squeeze bottle featuring a metal writer tip.  The metal tip allows for precise application - almost as accurate and precise as a ball point pen.  You can create designs, outline shapes or patterns in your design, create stripes, dots, squiggles & lines, or write words.

It can be applied directly on clay, bisque, or over other glazes. Designer Liner will fire to a matte finish - a clear or transparent glaze (Foundations Sheers, for example) will give it a gloss finish.

Designer Liner can also be applied using a liner brush, such as a #10/0 liner.

Will fire from cone 05/06 up to cone 6.

Non Toxic, Food Safe. May not be suitable for dinnerware due to surface characteristics.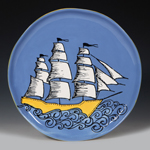 Watch demo video by Lisa Bare Culp. Take a child's drawing and turn it into a ceramic work of art!
DLKIT3 (New) One each of the 6 Designer Liner Colors: Black, White, Red, Blue, Brown, Bright Green
(SG-401, 402, 403, 404, 406, 409)
Six - 1¼ oz. squeeze bottles per case.
Kit List Price  $ 30.00
Now $ 24.00
(discounted price shown below)
(offer may not be combined with other discounts)
9/23